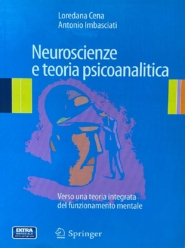 Neuroscience and psychoanalytic theory
Volume chapter author (s):
Cena L., Imbasciati A.
Today psychoanalytic clinical practice is not that Freud's. Infant and infant-with-mother/parents psychoanalysis opened up large perspectives that have deeply affected the whole psychoanaltic theory and practice. Psychoanalytic clinical practice changed and progressed greatly. But in its theoretical frame today psychoanalysis has a number of concepts and theories, so that a confusion and different laguages have developed. This is due to an obstinate almost religious preservation of old concepts along new ones. In particular energy-drive concepts of Freud's Metapsychology contradict the progress of current psychoanalysis, and yet they are used.
Neuroscience has a consilience with contemporary psychonalytic clinical practice and has demonstrated the fundamental concepts of infanf-mother psychonalysis and seems to suggest new metapsychologies, which are based on early learning of mental functioning. Attachmet theory developments and therapies, and infant experimental research too support current psychoanalytic practice and suggest new theories. This book intends to promote an integration between Neuroscience, Psychonalysis, Attachment and Infant Research, so as to point out a theoretical clarification. A new metapsychology is outlined.